Heading to the NCAA tournament? Learn the ins and outs of Colonial Life Arena before you go. The fine folks of UofSC have crafted a cheat sheet for you. 
Gameday A - Z 
Arena Entrances
The main entrance for Colonial Life Arena is located on the corner of Greene and Lincoln Streets. There are also secondary entrances located on Greene Street, Lincoln Street and College Street. Doors will open one hour prior to the start of practices on Thursday, March 21 for Open Practice Day and will open 1.5 hours prior to each session on Friday, March 22 and Sunday, March 24. 
Assisted Listening Device
Assisted listening devices are available to hearing-impaired guests at no cost. The assisted listening device is a headset that broadcasts Colonial Life Arena's Sound System on an FM frequency. Any patron checking out an assisted listening device must leave a driver's license or valid form of identification to receive the headset. They are available at the Guest Services kiosk located on the main concourse behind section 118.
Between Sessions
Colonial Life Arena will be cleared between sessions on Friday.
Clear Bag Policy/Prohibited Items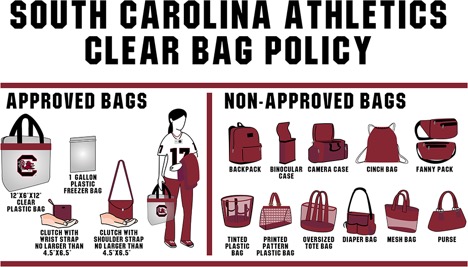 Guests will be able to carry the following style and size bag, package or container into the venue:
Clear plastic, vinyl or PVC bags that do not exceed 12"x6"x12" – A logo no larger than 4.5"x3.4" can be displayed on one side of a permissible clear bag.
One-gallon clear plastic freezer bag (Ziplock or similar.
Small clutch bags no larger than 4.5"x6.5" – approximately the size of a hand, with or without a handle or strap.
Medically necessary items after proper inspection.
Prohibited items include, but are not limited to:
Bottles, cans, beverage containers or coolers (except for guests with medical and/or dietary needs); containers of any kind
Alcoholic beverages
Food or beverage items other than those dispensed by the approved concessionaire
Video recorders on game days
Still cameras with lenses longer than 4 inches on game days
Large bags, backpacks or large purses
Weapons of any kind; mace/pepper spray; fireworks/explosives
Missile-like objects
Laser lights, strobe lights, and laser pointers
Irritants such as artificial noisemakers
Objects that obstruct the view of other guests; flags and flag poles, unauthorized banners, posters, props, pom poms, etc.
Promotional items with commercial slogans or identification
Aerosol and spray cans
Umbrellas
Animals (except services animals)
Inflatables (beach balls, etc.)
Strollers
Illegal drugs
Personal seatbacks with armrests
Unauthorized masks of any kind
Drones
No signs, flags, or banners of any size may be affixed to the facility
Other items that in judgment of arena management pose a safety hazard or diminish the enjoyment of an event by other patrons
Purses larger than a clutch bag (4.5" x 6.5"), briefcases, backpacks, and cinch bags of any kind, fanny packs, luggage of any kind, computer bags/cases, camera bags/cases, binocular bags/cases, or any bag larger than the permissible size (12"x6"x12") or that does not appropriate clear bag standards
*Non-commercial signs, flags or banners that in the opinion of the NCAA, reflect good sportsmanship, can be held by one individual and do not block the view of other ticket patrons are permitted.
Note that items may be added to the list based upon a heightened safety and security threat level or at the discretion of competition venue management.
Fan Help Text Line / Game Enhancement Line
If you see something, say something. Report arena issues, unruly behavior or requests for help by texting: "USC" [space] issue and location to 69050. Assistance is available one hour before tipoff through one half hour after the final game in Sessions II and III. (Standard SMS rates apply.)
First Aid
If medical assistance is needed, contact the nearest usher for directions to the closest first aid facility. There is a first aid room equipped and staffed as a limited treatment station located on the concourse at the top of section 112 near the College Street entrance. This first aid station will be available on Open Practice Day as well as during each day of competition at Colonial Life Arena.
Guide Dogs / Service Animals
Trained guide dogs and service animals are permitted/allowed to assist guests inside the arena. All other animals are prohibited. If you need assistance while at Colonial Life Arena, please contact an usher or staff member.
Street Closures
Greene Street will be closed from Lincoln Street to Gadsden Street, and Lincoln Street will be closed from College Street to Greene Street.
Restrooms
Arena restrooms are located throughout the main arena concourse for your convenience. For family restrooms, contact the Guest Services kiosk located on the concourse behind section 118.
TICKETS
Visit this link for ticket information.