Sports Bar for Every District
General Information
Columbia SC Sports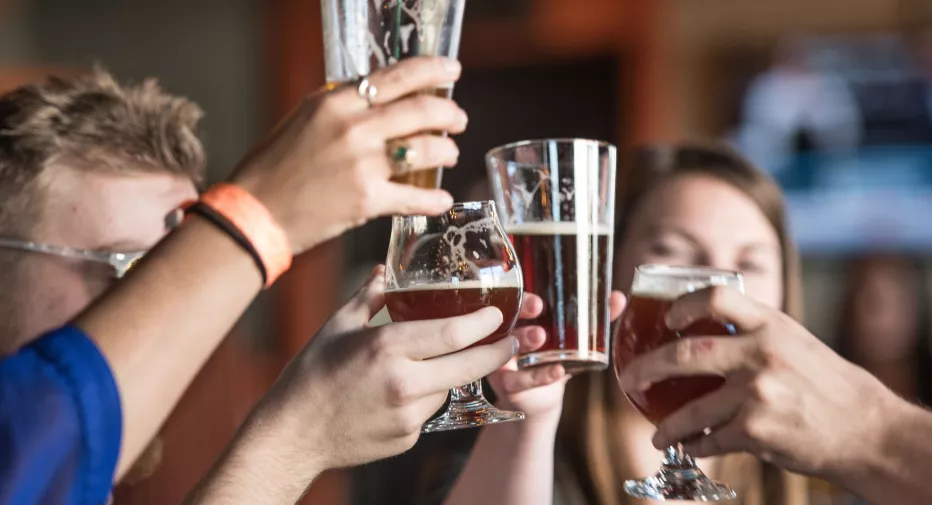 There's no doubt that sports are looking a bit unusual this year. As home to several colleges and universities, we're used to game days and nights filled with fans cheering on their team, no matter the outcome. While attendance at games may not be in the cards for you this year, there's no shortage of spirit in this college town. 
From district to district, you'll find a sports bar that suits your fancy and makes you feel like you're back at the game (kind of). Just remember to pack your mask and hand sanitizer with your gameday essentials – all of these spots are following orders to keep their patrons safe.
Main Street: Main Course
Smack in the middle of Main Street you'll find Main Course, part virtual golf club, part bar. Try your hand at a few pints from the tap wall, featuring 75 self-pour taps, to kick the game off. During halftime you can take a swing in one of the golf bays, slam a hockey put in the net, or play zombie dodgeball. 
The Vista: Thirsty Fellow 
Boasting the coldest beer in town, and we'd have to agree, Thirsty Fellow features an open floor plan that ups the feeling of camaraderie for the home team. And with plenty of TVs around, there's bound to be a way for you to watch your game if you're not in the majority. Snack on some gorgonzola chips, build your own pizza and get to cheering. 
Five Points: Jake's 
If you're really craving that college atmosphere, you should head to the Five Points district. This unique village neighborhood is quaint and funky by day, and filled with college students by night. Watch your team at Jake's whose outdoor patio is tucked away and out of sight from the main road. Here you'll find dogs roaming around, TV's hanging from porch ceilings and a couple of outdoor bars. Don't miss those gameday eats by Ripper's featuring a wide variety of menu items. May we suggest the Ripper Hot Dogs with pimento cheese?
Devine Street: Burger Tavern 77
Up the road from the Five Points district, you'll run into the Devine St. district which is known for its boutique shopping. While this is a go-to spot for last-minute gameday outfits, it's also got plenty of bars to get you in the spirit. Try Burger Tavern 77 who boasts preserving the classic American burger and beer combo. With a u-shaped bar, you'll be able to chat through play calls with the folks across the bar while enjoying a cold one.
Cayce: Henry's in Cayce
Tucked away from the bustle of the city in Cayce and near the Congaree River, you'll find Henry's in Cayce. This local hangout is the second location of its kind in the region, and for good reason. Belly up to a table or on the outdoor patio and enjoy small plate classics like fried pickles and buffalo chips with homemade ranch. Trust us, by the end of the game you're likely to have made a few local friends. 
Forest Acres: Pizza Joint
What's better than game day and beer? Game day and beer and pizza. At The Pizza Joint in Forest Acres you'll find all three, with an emphasis on the specialty pies. With menu items like the Hippie Heaven and the Cheeseburger Pie, there's a combination for everyone on your team. Donned with diner style booths and TVs in every corner, it's the perfect game day spot for the family.
The Mills: River Rat Brewery
Get right next to the action at River Rat Brewery, located a stone's throw from Williams-Brice Stadium. With a taproom, rooftop bar, expansive yard and covered patio, there are plenty of places for you and your team to have your own space. Bonus - it's one of the most dog and kid-friendly places in Cola.
Rosewood: The Cock n' Bull Pub
This British style pub in Rosewood is chock full of televisions and locals that love to brunch. You'll find all kinds of sports on the Cock n' Bull screens, but soccer is the specialty here. Dig into some Fish and Chips or Scottish Nachos and you'll find yourself accidentally cozied up to this bar for hours on end. 
NOMA: Cottontown Brew Lab
We would be remiss if we didn't mention a brewery here. Columbia has plenty of breweries to fill your day of game watching, but if you find yourself in the North Main (NOMA) area, grab a picnic table in the beer garden at Cottontown Brew Lab. From seasonal beers like the Pumpkin Spice Lager to flagships like the Tropicarolina IPA, you're sure to find a new favorite, made right here in the capital city. 
Lexington: O'Hara's Public House
This Irish pub will give you cozy vibes, cold beer and new friends. Located in the middle of Lexington's Main Street, the locals at O'Hara's have never met a stranger. Cheer on the team together over traditional Irish dishes like Guinness Stew and mini Shepherd's Pies.
Irmo: Craft & Draft
With two locations in the Columbia Region, Craft & Draft has a loyal following of craft beer lovers. Watch the game on TV or grab your own board game to pair with your brew. With a rotating draft board and several refrigerators full of choices (including wine and seltzers), there's something for everyone on your team.
Chapin: Lazy Creek Taphouse
Relatively new to the scene is Lazy Creek Taphouse in Chapin. With a mix of local and national beer and wine on tap + a food truck schedule that will have your mouth watering, it's a popular spot to catch the game. And if it's warm out, you'll probably spot a few locals that have just come from day of fun on Lake Murray. 
We know this barely covers the sports bar scene across the region. Tell us your favorite sports bar in the comments below and tag them for an extra point.